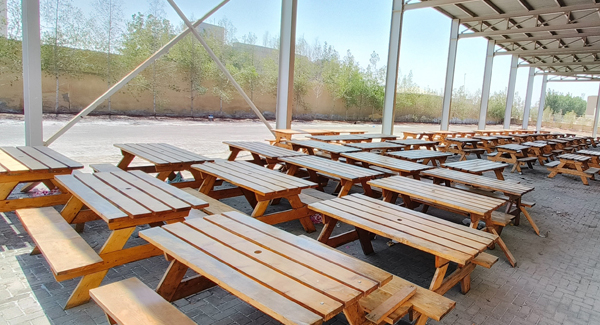 Event rental services of Reyami Rental  provide everything you need to make your event a success. Whether you're planning a family picnic, a corporate outing, a community event, or any other outdoor gathering, our picnic bench rentals are a perfect choice. They offer a convenient and hassle-free seating solution, allowing your guests to enjoy the great outdoors while having a comfortable place to sit and interact.
RELAX AND DINE IN STYLE WITH OUR CONVENIENT PICNIC BENCH
Our picnic bench rental service provides budget-friendly and practical options to upgrade your outdoor event's seating arrangement. Contact us now to discover more about our picnic bench rental service and add style and comfort to your next outdoor party or gathering.
Our picnic benches are well-maintained and cleaned after each use, ensuring that they are in pristine condition when delivered to your event. We take pride in providing excellent service, from prompt delivery and setup to timely pickup, making the rental process smooth and hassle-free for you. Our rental packages are flexible and customizable to meet your specific needs. Whether you require a few benches or a larger quantity, we can accommodate your requirements. Our team is dedicated to assisting you in selecting the right number of picnic benches based on the size of your event and the expected number of guests.
Picnic benches provide a comfortable and practical seating solution, allowing your guests to relax and enjoy the festivities. At our picnic bench rental service, we offer a range of benches to suit your event's size, style, and budget. They are made of high-quality materials that are durable and weather-resistant, making them suitable for any outdoor setting. We provide comfortable seating for your guests, ensuring that they can relax and enjoy the event. Our picnic bench rental service offers a cost-effective alternative to buying benches for a one-time event. Additionally, our team of professionals will deliver and set up the picnic benches, providing you with a hassle-free experience. With this we offer affordable and convenient solutions to enhance your outdoor event's seating arrangements.
Frequently Asked Questions
Why rent your equipment from Reyami Rental?
Reyami Rental is dedicated to providing late model, quality equipment rentals at the best rates coupled with excellent customer service and support to resolve quickly and completely any issues you may have with your rental.
Can I reserve equipment in advance?
Yes. You can reserve your equipment only up to two days prior to your rental. First time customers must come in to complete the paperwork.
Do I have to return the equipment full of fuel?
We send it out full of fuel so we do ask that it is returned full to avoid fuel charges.
Can I have my equipment delivered and picked up? What are the rates?
We can deliver your equipment to your home or job site. Delivery and pick up rates vary according to equipment size and distance. Just give us a call and we can quote your delivery and pick up.
Asst. Sales Manager – Events & Special Projects
Let One Of Our Experts Find The Right Equipment For You.