Rent Ablution Units For Special Needs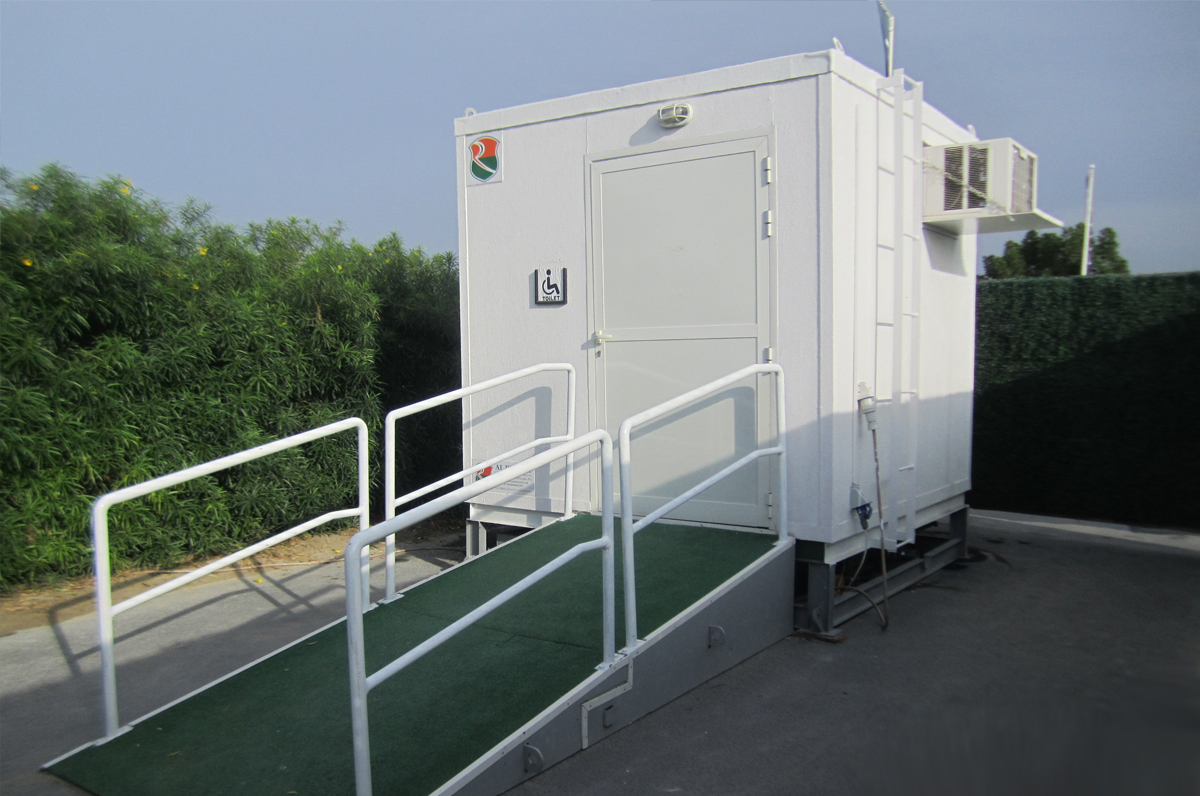 Reyami Rental provides a wide range of equipment options to cater to all types of events and projects. we offer a wide range of portable toilet options to suit your needs. Whether you're organizing an event, managing a construction site, or hosting a gathering, our Ablution Units for Special Needs are the perfect choice. 
ENHANCING ACCESSIBILITY WITH OUR ABLUTION UNITS FOR RENT
Our ablution units are specifically designed to cater to diverse needs. We prioritize inclusivity and ensure that our units adhere to the highest standards of safety, hygiene, and privacy. Contact us today and provide a welcoming and inclusive restroom experience for everyone involved.
We take pride in being your trusted partner for ablution container rentals. With our dedication to quality, flexibility, and customer satisfaction, we are committed to delivering outstanding portable hygiene solutions that meet your specific needs.Our friendly and knowledgeable customer support team is available to address any inquiries, provide assistance, or handle any issues that may arise during the rental period. We strive to deliver exceptional service and ensure a smooth rental experience for our clients. We understand that every project or event is unique. That's why we offer customization options to tailor the ablution containers to your specific needs. Whether you require additional features, specific layouts, or branding options, we work closely with you to ensure your requirements are met.
Our rental process is designed to be simple and hassle-free. We provide timely delivery and setup of the ablution containers at your desired location, and our team is always available to assist you throughout the rental period. We offer flexible rental durations, allowing you to choose the timeframe that best suits your project or event. Our Ablution Units for Special Needs rental services offer inclusive and accessible restroom solutions for individuals with unique requirements. Our rental services offer a comprehensive range of high-quality ablution units specifically designed to meet the unique requirements of people with disabilities, mobility challenges, or other special needs. . Our team is eager to assist you in creating an inclusive environment that prioritizes accessibility, comfort, and dignity for individuals with special needs. Choose Ablution Units For Special Needs Rental Services and experience the difference we can make.
Frequently Asked Questions
Why rent your equipment from Reyami Rental?
Reyami Rental is dedicated to providing late model, quality equipment rentals at the best rates coupled with excellent customer service and support to resolve quickly and completely any issues you may have with your rental.
Can I reserve equipment in advance?
Yes. You can reserve your equipment only up to two days prior to your rental. First time customers must come in to complete the paperwork.
Do I have to return the equipment full of fuel?
We send it out full of fuel so we do ask that it is returned full to avoid fuel charges.
Can I have my equipment delivered and picked up? What are the rates?
We can deliver your equipment to your home or job site. Delivery and pick up rates vary according to equipment size and distance. Just give us a call and we can quote your delivery and pick up.
Asst. Sales Manager – Events & Special Projects
Let One Of Our Experts Find The Right Equipment For You.