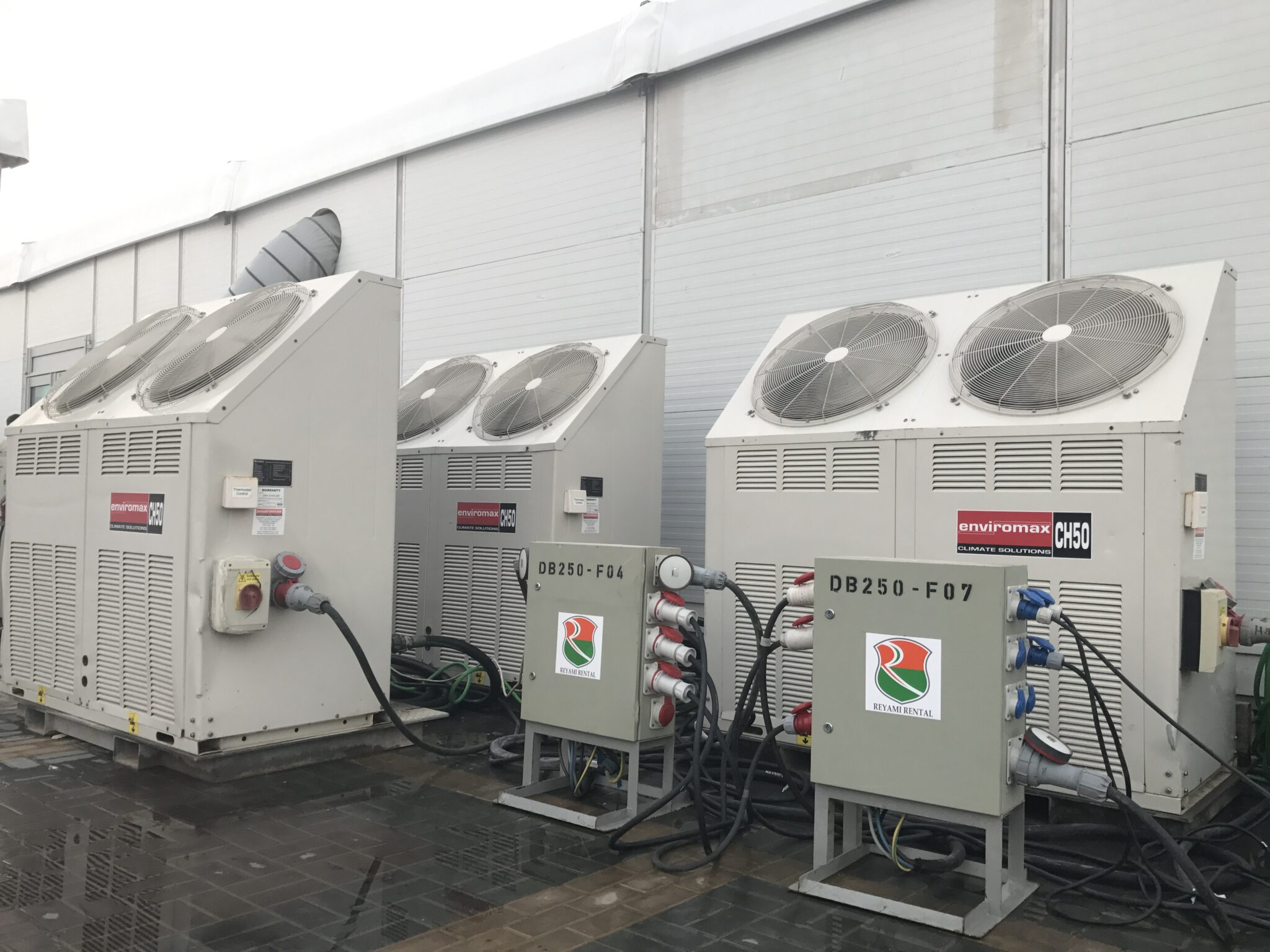 Reyami Rental is one-stop solution for equipment rental services which provides a wide range of equipment options for all types of events and projects. When it comes to maintaining optimal temperatures in various environments, our chiller rentals offer efficient and reliable cooling solutions. Whether you're organizing a special event, managing a construction site, or need temporary cooling for industrial processes, our rental chillers are designed to meet your cooling needs. 
EFFICIENT AND RELIABLE CHILLER RENTALS IN UAE
We specialize in providing reliable and efficient chiller units for various industries and applications. Whether you need temporary cooling solutions for events, construction projects, industrial processes, or commercial facilities, our chiller rentals offer the perfect temperature control solution.Chiller for rental is an ideal solution for events that require temperature control. We can provide you with the perfect chiller to meet your specific needs. With professional setup and maintenance included, our chiller rental services are a practical and cost-effective option for any event. Contact us now to learn more about our rental services.
Our chiller rental services offer a range of options to fit your event's specific needs. You can choose from a variety of chiller types, including air-cooled, water-cooled, and portable units. When you hire a chiller we ensures that it is properly installed and well maintained throughout the event. We offer energy-efficient units that help save money on electricity costs while maintaining the desired temperature for your event for making the event environmentally friendly and cost-effective. Chiller rental services are flexible and can accommodate events of any size and duration. You can rent chillers for a few hours or several days, depending on your event's needs. To find the perfect chiller to meet your event's specific needs work with our professional team.
By renting chillers from us, you not only gain practical cooling solutions but also contribute to environmental sustainability. Our rental chillers incorporate energy-efficient technology, allowing you to achieve effective temperature control while minimizing energy consumption and reducing your carbon footprint. We prioritize transparency in pricing and agreements, ensuring a straightforward rental process where you have a clear understanding of costs and rental terms. Contact us today to discuss your chiller rental requirements and experience the difference .
Frequently Asked Questions
Why rent your equipment from Reyami Rental?
Reyami Rental is dedicated to providing late model, quality equipment rentals at the best rates coupled with excellent customer service and support to resolve quickly and completely any issues you may have with your rental.
Can I reserve equipment in advance?
Yes. You can reserve your equipment only up to two days prior to your rental. First time customers must come in to complete the paperwork.
Do I have to return the equipment full of fuel?
We send it out full of fuel so we do ask that it is returned full to avoid fuel charges.
Can I have my equipment delivered and picked up? What are the rates?
We can deliver your equipment to your home or job site. Delivery and pick up rates vary according to equipment size and distance. Just give us a call and we can quote your delivery and pick up.
Let One Of Our Experts Find The Right Equipment For You.