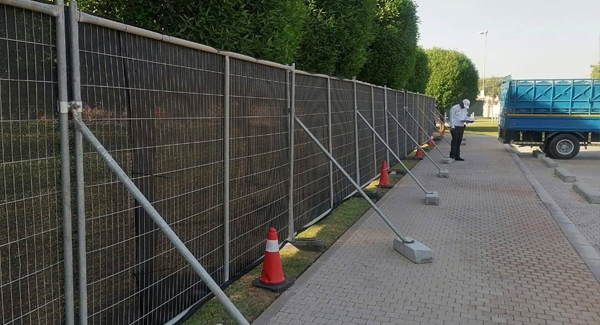 Reyami Rental provides a wide range of equipment options to cater to all types of events and projects. Our Mesh fence rental will create a safe and controlled environment for your project. Our focus on quality is reflected in our provision of top welded mesh fencing solutions to meet our clients' needs. We utilize only premium materials and advanced manufacturing techniques to ensure that our fences are robust, long-lasting, and reliable. Hiring fences for events is a crucial aspect of event planning and management. Contact us today to discover more about our mesh fence rental solutions.
SECURE YOUR SITE WITH OUR RELIABLE MESH FENCE RENTALS
We  provides rental services for mesh fences in the UAE. Crafted by highly skilled engineers, these fences are widely used in construction and building projects. Renting a mesh fence from Reyami Rental can save you time and money. Contact us today for rental or hire of fence for events.
Our mesh fences are designed to provide durability, versatility, and reliable protection for a wide range of applications. Our fences are easy to install and dismantle, making them suitable for both short-term and long-term rental needs. We prioritize quality and ensure that our mesh fences are well-maintained and sturdy, offering you peace of mind. With our mesh fence, create a safe and secure environment for your project.
Our fences are corrosion-resistant and primarily used as fencing panels, featuring strong welded joints and uniform spacing between wires to ensure maximum safety of your property. They are designed to suit a wide range of applications and offer a cost-effective solution that provides added stability and durability. They can quickly barricade large areas with rigid fencing and are easily anchored to structural posts or angles. Most of our mesh fences are designed to provide exceptional security without compromising on versatility.  It is constructed with durable materials to withstand various weather conditions and provide a sturdy barrier for your site. With easy installation and customization options, our fences, available for hire for events, can be tailored to fit your specific requirements.
Our GI Welded mesh fence is equipped with concrete boots and supporting bars, making it a sturdy and reliable choice for your fencing needs. It offers superior strength, durability, and stability, providing excellent security for your property or project. From initial consultation to timely delivery and efficient removal, we strive to provide a seamless rental experience that exceeds your expectations. Choose our mesh fence rental services for your temporary fencing needs and experience peace of mind knowing that your site, event, or project is well-protected.
Frequently Asked Questions
Why rent your equipment from Reyami Rental?
Reyami Rental is dedicated to providing late model, quality equipment rentals at the best rates coupled with excellent customer service and support to resolve quickly and completely any issues you may have with your rental.
Can I reserve equipment in advance?
Yes. You can reserve your equipment only up to two days prior to your rental. First time customers must come in to complete the paperwork.
Do I have to return the equipment full of fuel?
We send it out full of fuel so we do ask that it is returned full to avoid fuel charges.
Can I have my equipment delivered and picked up? What are the rates?
We can deliver your equipment to your home or job site. Delivery and pick up rates vary according to equipment size and distance. Just give us a call and we can quote your delivery and pick up.
Let One Of Our Experts Find The Right Equipment For You.